Obituaries
Serving Our Community Since 1951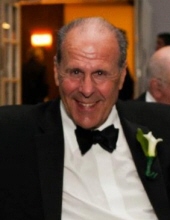 Obituary for Charles Anthony O'Donnell III
Charles Anthony O'Donnell III, 73, passed away peacefully on Sunday, January 3rd, 2016, in his wife's loving arms, in the home he built in Monroe, CT, after a day spent surrounded by his devoted children and adoring grandchildren.

Charles, or Chuck to those who knew him, was born September 3rd, 1942 to Irene and Charles O'Donnell II in New York, NY. He grew up in Allentown, PA, then attended St. Mary of the Plains college in Kansas, where he found and fell in love with his wife of 52 years, Maureen Ann Spencer.

A man of character and integrity, a devoted husband, a father who loved unconditionally, and grandfather who gave selflessly, he was a man of both gentleness and great strength, applying whichever quality was needed, at precisely the right time. To all who knew him, he was a giant of a man.

Chuck was a talented Electrical Engineer, entrepreneur, and business owner for 38 years, designing and supplying electrical motor systems for major American and International manufacturers, and was recognized this year with an award for his exceptional technical work by Baldor Motors. Chuck loved and was loved by the many people he knew through his business; acquaintances who over time he came to regard as his lifelong friends.

In addition to his business and family, Chuck enjoyed active outdoor hobbies year round. He was an avid downhill skier, and with his wife by his side, captained their 39 foot sailboat, "Will You Go".

He is survived by his devoted wife, Maureen Ann O'Donnell, his children, Charles IV and Catherine O'Donnell of Shelton, Eileen O'Donnell and Anthony Skrip of Branford, Daniel and Michelle O'Donnell of Sandy Hook, Michael and Corrie O'Donnell of Fairfield, Francis and Jasmin O'Donnell of Stamford, Patrick and Ming Lun O'Donnell of Black Rock, Casey and Stephanie O'Donnell of Stamford, Irene and Jeffrey Baker of Norwalk, and a boatload of grandchildren. He is predeceased by his parents and sister, Roseanne Ellis, of Allentown, PA.

Friends are invited to an Irish wake and celebration of Chuck's life on Wednesday, January 6, 2016 from 3:00 p.m. to 9:00 p.m. in his home at; 9 Holly Place, in Monroe, CT.

Friends are invited to attend a Funeral Mass of Christian Burial on Thursday, January 7, 2016 at 10:30 a.m. by meeting directly at St. James Church, 2070 Main St, Stratford, CT. Interment will be private

Flowers may be sent to his home at 9 Holly Place, Monroe, CT, 06468.

For more information or to share a message of condolence, visit www.wrmcdonaldfuneralhome.com.
Read More
Previous Events
Visitation
Charles & Maureens' Home
9 Holly Place
Monroe, CT 06468
Funeral Mass of Christian Burial
Saint James Church
2070 Main Street
Stratford, CT 06615
Interment will be private.