Obituaries
Serving Our Community Since 1951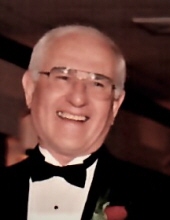 Obituary for Leroy E. Vonick
Leroy (Roy) E. Vonick, age 94, of Stratford, beloved husband of Mary (Bornyak) Vonick, passed away Saturday, February 16, 2019 in Bridgeport Hospital. Mr. Vonick was born September 19, 1924 in Bridgeport, son of the late Michael and Agnes (Carroll) Vonick and had been a lifetime area resident.


He was a United States Navy Veteran of WWII and a retired mechanic for Fruitrich Cadillac, Bridgeport. He enjoyed boating, water skiing, snow skiing, and was an avid fan of auto racing.

In addition to his wife, he is survived by his sons Michael Vonick and his wife Maureen McCarthy Vonick and Stephen Vonick and several nieces and nephews.

He was predeceased by two sisters, Marion Federowicz and Shirley Rich.

All services and burial were private and at the convenience of the family.

For further details or to leave condolences, please visit www.wrmcdonaldfuneralhome.com.
Read More