Obituaries
Serving Our Community Since 1951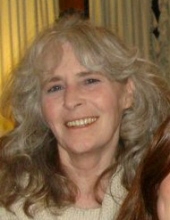 Obituary for Janice Pace
Janice Lynn Pace, 72, passed away on March 4, 2020, at her home. She was the beloved widow of Arthur "Butch" Dritenbas. Janice was born in Milford on August 1, 1947, to the late Augustus John and Frances Mary (Grich) Pace.

She was a graduate of Bunnell High School in Stratford, class of 1965, and attended art classes at Southern Connecticut State University. Prior to Butch passing away, she worked with him as a land clearer and would run the chainsaw flawlessly. Janice was a gifted artist, and her paintings were displayed beautifully throughout her home. She saw the beauty in everything! Along with being a piano and guitar player, Janice was also a wildlife rehabilitator, and she was known for her sweetness and kindness to all. Honesty and integrity were very important to her, and she was fiercely loyal to and protective of her family. She enjoyed fishing, had a wonderful sense of humor, and was the best at telling a story—complete with the faces she would make and her antics! Janice lived life on her own terms—with strength, uniqueness, compassion, generosity, and independence. She showed her dedication and passion in all that she did.

Janice is survived by her daughters, Michelle Ann (Butterworth) Mastroianni of Stratford and Jennifer Lee (Butterworth) (Michael) Lyons of Harwinton; sisters, Claudia (Mark) Stewart of Milford and Susan (Timothy) Kelly of Stratford; grandchildren, Jacquilyn, Kayla, Gregory, Joelle, Kaitelyn, Jakob, Basil, and Luke; great-grandson, Nikolai; nieces and nephews, Victoria Zapatka, Daniel (Amanda) Zapatka, Monica (Kevin) Lundberg, Bridget (Craig) Masley, and Loretta (Steven) Lane; and great-nieces and great-nephews, Kiera, Aidan, and Jackson. Janice was also predeceased by her sister, Deborah Pace.

In lieu of flowers, Janice would have liked donations and kindness shown to: www.friendsofanimals.org or mailed to: Friends of Animals, 777 Post Road, Suite 205, Darien, CT, 06820.

A Cassidy's Cremation Service and William R. McDonald Funeral Home have been entrusted to care for Janice and her family. A funeral home service will be held at William R. McDonald Funeral Home, 2591 Main Street, Stratford, CT, 06615, on Thursday, March 12, 2020, at 2:00 p.m. . Interment of ashes will follow in St. Mary's Cemetery, Buckingham Avenue, Milford, CT, 06460. Friends may visit with family before service time from 12:00 to 2:00 in the William R. McDonald Funeral Home.

For additional information or to leave a message of condolence, visit www.wrmcdonaldfuneralhome.com.
Read More
Previous Events
Visitation
William R. McDonald Funeral Home
2591 Main Street
Stratford, CT 06615
Celebration of Life
William R. McDonald Funeral Home
2591 Main Street
Stratford, CT 06615